A timely topic has secured St John Bosco College Engadine Year 8 student Emilia Danne first prize in the 2021 Bragg Student Prize for Science Writing.
Emilia's 800-word essay, The Dark Side of Blue Light, unpacks the effect of blue light from digital devices on the body's circadian rhythms and on sleep.
She was inspired to explore the topic by the extra screen time families faced during the COVID-19 lockdown.
"We rely heavily on our devices every day, but not everyone knows about what blue light is and what it does," Emilia said.
"Sleep is essential, particularly when we are developing as kids and teenagers.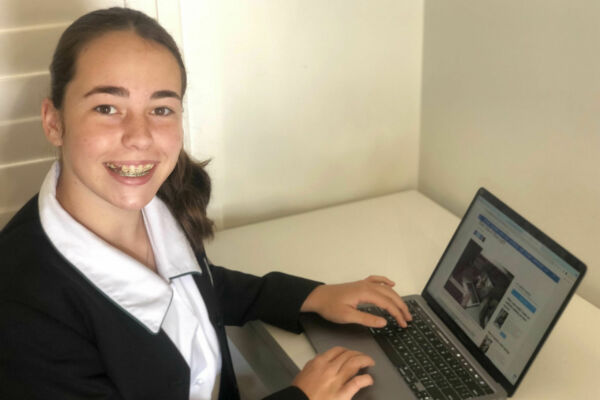 "What surprised me the most when writing this was that due to online learning, high school-aged children were spending the same time on their devices (if not more) than they were sleeping."
"There truly is STEM all around us in our everyday life" – Emilia Danne
The Bragg Student Prize celebrates excellence in science writing by Australian high school students in Years 7 to 10, supported by UNSW Press.
"I was ecstatic when I found out I was chosen from all of the incredible entries from across Australia," Emilia said.
"Both of the runners-up had amazing pieces that were both so engaging and detailed. They both provide amazing outlooks on 'Stem in Everyday Life' and I feel so honoured to be recognised alongside them."
Emilia plans to take elective Science, likely Chemistry and Physics in Years 11 and 12.
"This writing competition gave me the opportunity to not only challenge myself as a writer but to open my eyes to the extensive and extraordinary world of science," she said.
Read Emilia's full essay here: UNSW Bragg Prize – Bosco students winning science essay